Lead Times
It is mid September and our current lead time is around 10 weeks.  Demand has been exceptionally high recently which has doubled our historic lead times.  We expect this to ease in the coming months.
Since 1979, Wood Design Inc has worked with many architectural firms and earned a reputation of excellence.
Our history of consistent high-quality work, the size and production capacity of our facilities, and focus on the client's needs makes us a leader. Over the years, Wood Design Inc has not only made heavy investment in state of the art technology to improve efficiencies, but we have also invested into the training of our craftsmen to preserve the true art of woodworking. See our work below >>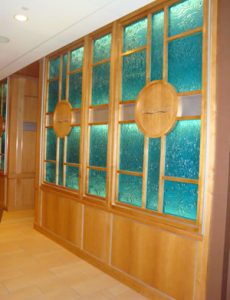 Craftsmanship & Quality
With over 40 years of experience, we have the ability to create the unique look that you want.  Whether you are looking for a unique reception desk or an oval shaped nurse station wrapped in solid surface.  We can do it!
Architectural Millwork Gallery
 After four decades in the business, we have the experience needed to make your design ideas come to life. Front entries, reception desks, teller lines, nurse's stations, and anything in between, we can get it done and done right.
Custom Designed For Your Space & Budget
Every project begins with a meeting with a designer who will explore your likes and needs while being mindful of your budget. Your cabinetry and countertops are custom made to fit your exact specifications.